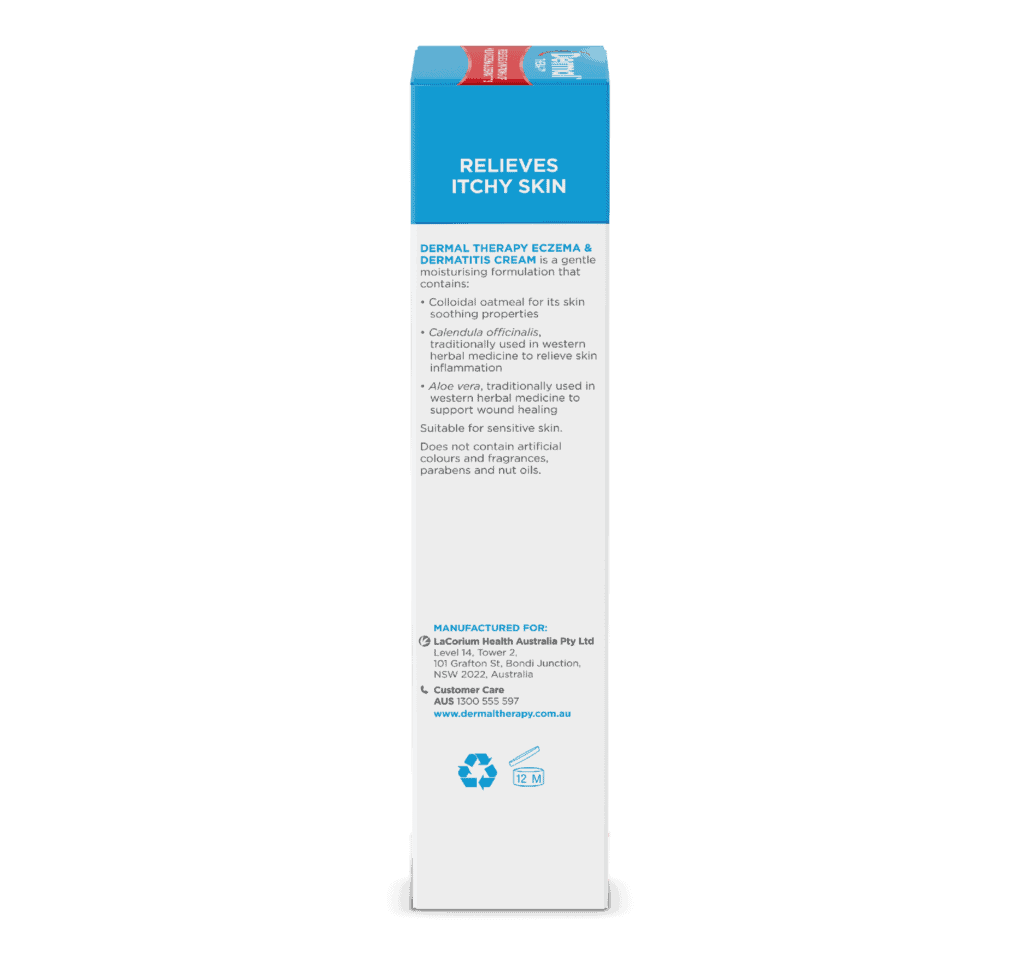 Eczema & Dermatitis Cream
Dermal Therapy Eczema & Dermatitis Cream provides relief from the symptoms of mild eczema & dermatits.
Reduces skin irritation
Relieves itchy skin
Australian made & owned
RRP $19.99 AUD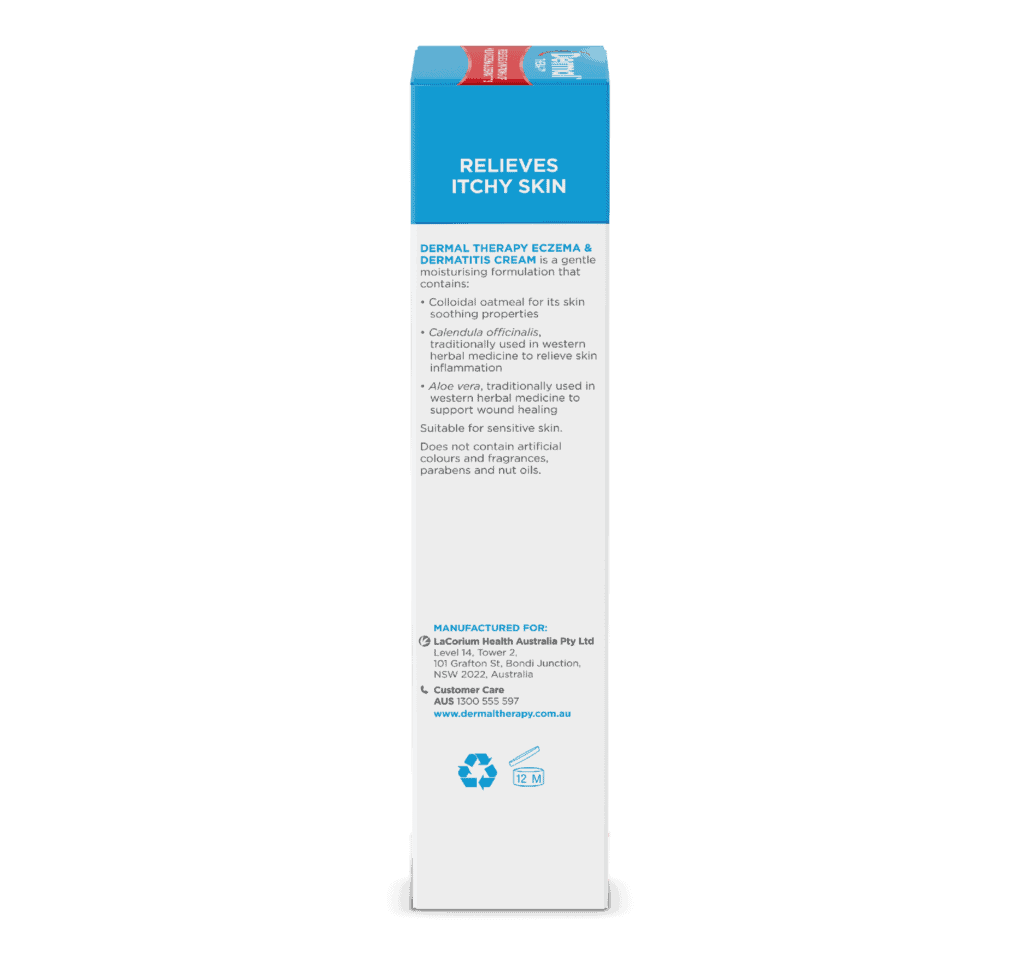 Dermal Therapy Eczema & Dermatitis Cream is a gentle moisturising formulation that contains: Read More >
Dermal Therapy Eczema & Dermatitis Cream is a gentle moisturising formulation that contains:
Colloidal oatmeal for its skin soothing properties
Calendula officinalis, traditionally used in western herbal medicine to relieve skin inflammation
Aloe vera, traditionally used in western herbal medicine to support wound healing
Suitable for sensitive skin. Does not contain artificial colours and fragrances, parabens and nut oils.
< Read Less
Aus Made & Owned

Clinically Tested

Dermatologist Recommended

Fragrance Free

Over The Counter

Paraben Free

Suitable for Sensitive Skin
Apply 3-4 times daily or as needed to affected areas of the skin. Smooth in gently. Patch test on skin 24 hours prior is recommended.
Active Ingredients:
Each 1 g contains:
Oatmeal Colloidal………………..50 mg
Aloe vera (Aloe barbadensis) inner leaf juice dry…………………..5 mg
Derived from fresh inner leaf juice………………………………………………….1 g
Calendula officinalis liquid extract……………………………………….20 mg
Derived from dry flower……20 mg
Other Ingredients:
Acrylates/C10-30 Alkyl Acrylate Crosspolymer, Aqua,Cetearyl Alcohol, Ceteth-20, Dimethicone, Disodium Edetate, Glycerin, Glyceryl Caprylate, Glyceryl Stearate, Hydroxyacetophenone, Isopropyl Myristate, Paraffinum liquidum, Phenoxyethanol, Sodium Stearoyl Glutamate, Triethanolamine
Contains hydroxyacetophenone, glyceryl caprylate, phenoxyethanol and sodium benzoate
Research
Methodology
​In a clinical-dermatological controlled study, 20 healthy male and female participants aged 18 and over applied Eczema and Dermatitis Cream onto the skin to determine its efficacy in reducing intensity of itching, swelling and redness induced by a histamine solution. This known irritant was applied on the skin at the start of the study (T0min), after which Eczema and Dermatitis Cream was applied. The skin's reaction was then assessed over 60 minutes: after 5min, 15 min, 30 min, 45 min and 60 min time points.
The reduction of itching was evaluated in a 5-point scale indicated in scores from 0 (no itching) to 4 (very severe itching) and the reduction of redness and swelling was measured in dimension in millimeter.
Result
A gradual reduction in itching, redness and swelling was observed over the 60 minutes period and an average score of 0 (no itching) was observed at T 45 min and after. Results hence showed that Eczema and Dermatitis Cream was effective in providing relief to the skin.
The above results are from a study conducted by Dermatest®GmbH in Germany, an independent testing facility as commissioned by LaCorium Health Australia Pty Ltd.
Regimen of Care
For best results we recommend these products be used together as a management regimen for your skin.
Real People Real Results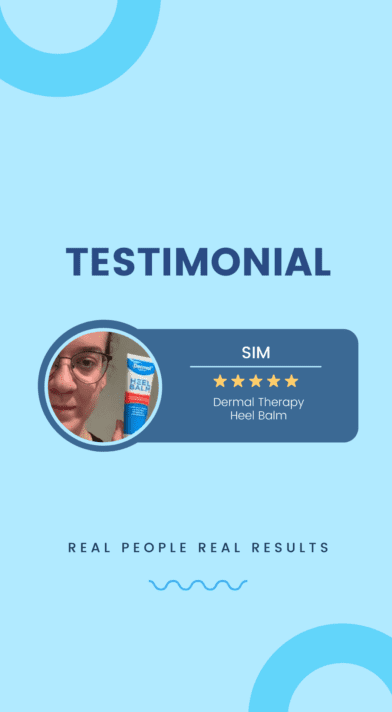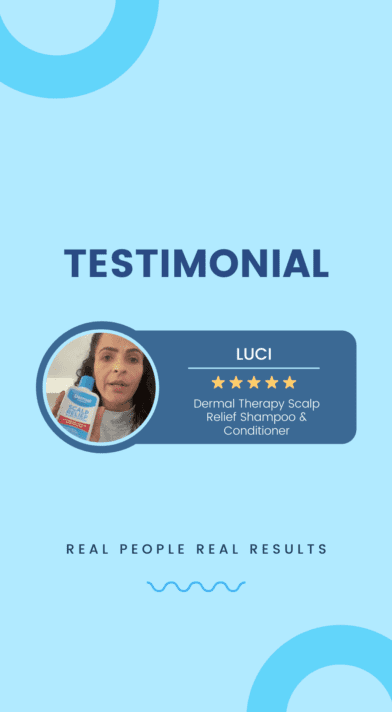 As featured in
The Dermal Therapy brand and products have been featured in a wide variety of media and publications including those featured here. Follow the link to our in the media page where you can read a collection of media articles covering a variety of products from our extensive range.

Discover us in the media